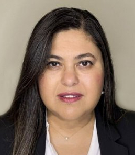 Nagla Abdel Karim
Medical College of Georgia, Augusta, GA
Dr. Nagla Abdel Karim is a Professor of Hematology/Oncology and the Director of the Thoracic Oncology and Phase I Programs at the Medical College of Georgia-Augusta-Georgia. Her clinical and research interests are focused on the personalized approach of therapy for lung cancer. She is the study chair of S1929 clinical trial at SWOG that focuses on personalized therapy for SLFN11 small cell lung cancer.
Dr. Nagla Abdel Karim received her Medical degree from the University of Cairo- Faculty of Medicine. She subsequently received her training in Internal Medicine/Medical Oncology at the National Cancer Institute-The University of Cairo and she obtained her Masters of Science degree followed by PhD, where the latter was through a channel program with the University of Washington.
She did a year of Post-doctoral fellowship at MD Anderson in Cancer Prevention, followed by one-year Research fellowship at The University of Washington.
She did a residency in Internal Medicine at Fairview-Cleveland Clinic Hospitals in Cleveland, Ohio followed by a 3-year clinical fellowship in Hematology/Oncology at The University of Cincinnati then became Assistant Professor of Medicine at Ohio State University then re-joined the University of Cincinnati again in September 2011 as an Assistant Professor then Associate Professor on 2014.
During all that time, she was an Investigator and Co- investigators of several Clinical Trials as well as a lead investigator on several translational research projects.